Camping in Shivpuri, River Rafting in Shivpuri - Rishikesh
Wednesday, 28 December 2016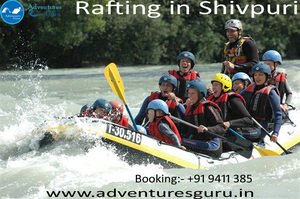 Item details
City:
Rishikesh, Uttaranchal
Contacts

adventuresguru

9411385163
Item description
Being located at the foothills of the huge Himalayas, Rishikesh is a vision come true for adventure sports lovers. With more than half the area of Uttarakhand under a rocky and mountainous landscape, the place is ideal for adventure sports, as well the usual tourist attraction of nature and religion. Owing to the exclusive topographical range and natural abundance, Rishikesh is one of the most popular destinations in India when it comes to white water rafting, camping, paragliding, bungee jumping, skiing, mountaineering and trekking. Adventures Guru is at your service to offer you with just the things you are looking for. Our travel advisors have been exploring the adventure destination in the state for more than a few years. They know each little detail and can recommend you tip that you can use to have the time of your life while on an adventure tour to Rishikesh.
Depending on your person travel supplies and preference, they can present you customized adventure tours. In case you desire to add more in your travel around, our travel counselors are always there to help you. Adventure lovers are free to choose their rafting routes in Shivpuri and nearby places. There are many service provider at local level reachable for your rafting though before information this in Shivpuri you must have take proviso in advance to save tour time and there may have unavailability of raft at last association. White water adventures & river rafting of Shivpuri is well-known across globe and this place attracts tourists for this great fun activity. The different clubs arrange river rafting for you is exacting about their service and excellence and will plan a complete family style river rafting for you and your family. Our guides will carefully instruct you on all aspects of rafting and river safety at the start of every journey. We run out all trip with total respect for the situation and cultures of the land and area, and present benefits to local economics, employing and training employees, and behind people in area we visit.